Services
Acupuncture
Acupuncture is one of the oldest, most commonly used forms of medicine in the world. Originating in China more than 2,500 years ago, acupuncture is currently one of the most thoroughly researched, practiced, and respected forms of complementary medicine available anywhere.
According to Traditional Chinese Medicine, your overall health is determined by the quality of the Qi (energy) flow through the natural pathways of your body (meridians). Acupuncture uses a variety of techniques, including placing very thin sterile needles into specific points on the body, to stimulate and improve your Qi flow. The many benefits of acupuncture include:
Pain reduction
Stress and tension relief
Increased energy levels
Stronger digestion
Relief from bad habits and addictions
Greater sense of overall health and well-being
Acupressure
Acupressure is based on one the most ancient principles of healing — that simply touching a specific point on the body will release stress and improve health in the body. In an acupressure session, I apply firm pressure directly to these "points" on your body, which relieves your muscle tension and improves your circulation. This simple and powerful technique has been shown to very effective in treating headaches, backaches, and even insomnia.
Auriculotherapy
Auriculotherapy, or ear acupuncture, is the practice of stimulating specific parts in the ear via the autonomic nervous system to treat the nervous system for addictions (food, smoking, narcotic), pain and dysfunction in the body using precise acupuncture points of the ear. Ear acupuncture can be an inexpensive option to enjoy the benefits of acupuncture without needing a full diagnosis or to alternate with full acupuncture sessions.
Chinese Herbology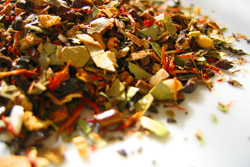 Chinese herbal medicine is a 2,000 year old tradition using naturally occurring substances — including herbs — to enhance one's health and vitality. As opposed to Western medicine, the foundation of this approach is to support the body's natural self-healing mechanisms and abilities.
Since each patient has different needs, I carefully select and combine a variety of herbs that will synergistically blend together to achieve optimal results for your unique situation. I prescribe high-quality, professional-grade herbal medicines that are available only to qualified licensed professionals.
Combination Therapy Sessions
Sessions combining two or more therapies create synergetic changes for faster and more profound changes. Many of the therapies listed on this page are commonly added within a standard acupuncture or bodywork session with Lea. Plan your unique customized combination session. You can combine hypnosis with acupuncture, hypnosis with your bodywork session, acupuncture with any bodywork option, or Reiki with your acupuncture or bodywork.
Cupping
Cupping has been a part of Chinese Medicine for over 2,500 years. It relieves aches and pains, improves circulation, and also helps with respiratory and digestive issues. I simply place a specialized "cup" onto specific points on your body, and then use suction to draw your skin up into the cups. It doesn't hurt — it simply draws fresh blood to that area of your body, which facilitates the cleansing and strengthening of your Qi (energy). The end result is a greater overall sense of health and well-being.
Electroacupuncture
Electroacupuncture is a highly effective holistic treatment for pain, nausea, and chronic ailments. In practice, it is actually very similar to traditional acupuncture. Using the exact same system of Chinese Medicine, I insert very thin and sterile needles into specific points along the meridians of your body. I then attach the needles to a device that delivers gentle electrical pulses between two points. This helps restore the healthy flow of Qi (energy) through your body, removing any blockages and clearing out stagnant areas, thus creating a stronger and clearer experience of health and well-being.
Facial Rejuvenation Acupuncture and Hypnosis
Facial Rejuvenation Acupuncture calms and evens skin color, firms skin tone, improves circulation and collagen production, raises qi to ease sagging jowls and drooping/puffy eyelids, softens dry rough skin, reduce double chin and bags or darkness under the eyes ... all while simultaneously balancing energies and boosting functions of the body. Facial rejuvenation is achieved through internal holistic rejuvenation. Hypnosis is added to some sessions in addition to a take-home CD/mp3 to further enhance the mind-body healing.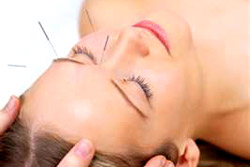 The series of twelve 90-minute sessions will include nutritional and lifestyle suggestions specific to your diagnosis to speed and cement desired results. TCM herbal medicine will be suggested when appropriate to aide clearing and/or nourishing circulatory and constitutional conditions to benefit the body's system and the rejuvenation goals. Subtle results become visible around the 4th session (people noticing "something" different...did you cut your hair?) and more apparent differences are noticed after the 6th or 7th session. Further sessions help further and anchor the benefits with an expectation of reducing the visible appearance 3-5 years usually while often improving one's sense of health and calm vitality to a greater degree.
Gua Sha
Although Gua Sha is an ancient healing technique used by Chinese Medicine practitioners for thousands of years, it is relatively unknown in the West. It is recognized throughout Asia as a highly effective treatment for chronic pain conditions, stress, fatigue, and a host of other ailments.
First, Gua Sha oil is applied to a specific meridian (energy pathway) on your body. I then use a smooth round-edged object (such as a spoon) to apply short brisk strokes to that area. This creates red patches of skin (called "Sha"), detoxifying your blood and restoring the healthy flow if Qi (energy) to the area. There is no pain involved, and the Sha will fade in 2 to 3 days. But the sense of health and vitality you experience from it will last much longer.
Hypno-puncture
The combination of hypnosis and acupuncture simultaneously within a session is proving in early research to provide profoundly powerful results. Dr. Andrew Weil, a noted practitioner and teacher of integrated medicine reports "amazing" results with the synergetic combination of hypnosis and acupuncture. To learn more of his evaluation of hypno-puncture visit Andrew Weil, M.D.'s website. Acupuncture and hypnosis are each respected as highly effective therapies. Together they amplify the benefits to achieve amazing and quick effect. Examples of conditions benefited with the synergetic combination therapy include but are not limited to: weight, smoking, anxiety, stress, asthma, insomnia, diabetes, sports performance, surgery preparation/recovery, migraines, chronic neck-shoulder pain, chronic digestive issues, pain that is unexplained by western diagnosis, grief, depression, anger/impulse control, low confidence/self-esteem and more.
Hypnosis
Also referred to as hypnotherapy or hypnotic suggestion, is a trance-like state in which you have heightened focus and concentration. Hypnosis is usually done with the help of a therapist using verbal repetition and mental images. When you're under hypnosis, you usually feel calm and relaxed, and are more open to suggestions. Hypnosis can help you gain control over undesired behaviors or to help you cope better with anxiety or pain. It's important to know that although you're more open to suggestion during hypnosis, you don't lose control over your behavior. (definition by the Mayo Clinic)
Therapeutic hypnosis enables one to fine-tune or rewrite subconscious associations that are unhealthy or simply no longer serving you to live the life you envision. The conscious mind can be focused on goals based on logic, but it is the subconscious that ultimately makes the decisions. Hypnosis is commonly used by professional athletes to improve their sports performance as the body's "instinctual response" trigger does not differentiate between memories of live practice of perfect play and the perfected play experienced during deep hypnotic state. Weight issues often have an emotional subconscious association that needs to be overridden to achieve lasting change. Reactions to stress and phobias are rooted in the subconscious regardless of what the conscious mind declares "logical".
Dr. John Sarnos, a renowned pain specialist who faced scathing fury from fellow medical physicians for years, is now well recognized as a pioneer among western physicians acknowledging that a large percentage of chronic disease and chronic pain conditions are rooted in suppressed emotional pain. He found over years of research that when a pain or condition was "treated" by conventional treatment, a new pain or condition would quickly develop unless the suppressed emotional memory was recognized and resolved. Other research has found that people experiencing chronic pain or phobias with no identifiable cause often find instant relief when past life regression hypnosis reveals a cause from before this lifetime (as a subconscious memory or association). In therapeutic hypnosis, the hypnotist guides you to hypnotize yourself. Hypnosis sessions can be conducted in person, by phone or by skype.
Medical Qi Gong
Medical Qi Gong is an ancient Chinese Medical practice that combines slow movements, conscious breathing, and focused mental attention to strengthen and enhance the flow of Qi (energy) throughout your body. Rather than addressing your symptoms (as Western medicine tends to do), Medical Qi Gong addresses your ailment at its very source by healing your entire being — mentally, emotionally and physically. Lea was extraordinarily fortunate to study Sheng Zhen Qigong with Master Li Junfeng, one of China's most respected martial arts Olympics coaches who went on to develop Sheng Zhen Gong, teaching his love-meditation qigong forms worldwide. Lea teaches her favorite Sheng Zhen forms, Kuan Yin Standing Qigong and Sheng Zhen Healing Qigong (a seated form). She also draws upon these and other forms to teach a prescribed specific meditative movement to acupuncture, massage and hypnosis clients to aide them in their home progress.
Moxibustion
Moxibustion is a Traditional Chinese Medicine technique that involves the burning of mugwort, a small, spongy herb, to facilitate healing and health. Moxibustion has been used for healing purposes throughout Asia for thousands of years. The purpose of moxibustion, as with most forms of Traditional Chinese Medicine, is to strengthen the blood, stimulate the flow of Qi (energy), and enhance your overall vitality and health.
Among other benefits, a landmark study published in the Journal of the American Medical Association in 1998 found that 75.4% of women suffering from breech presentations before childbirth had fetuses that rotated to the normal position after receiving moxibustion at an acupuncture point on the bladder meridian.
Pain Neutralization Technique
This innovative no-needle use of acupuncture meridians was the brainchild of Dr. Stephen Kaufman, a Denver-based chiropractor and acupuncturist. Objective symptoms (trigger points) are treated through pleasant gentle pressure techniques which neutralize nerve reflexes that are in turn causing subjective discomfort (via myofascial trigger point obstruction). These techniques differ from traditional acupressure or trigger-point techniques. PNT has been validated by many, many various doctors and acupuncturists. It's very effective for acute and particularly for chronic pain/symptoms and can improve range of motion, offering almost miraculous results in an amazingly short period of time, usually in minutes.
Pulse Diagnosis
One of the most common questions that patients ask about Chinese Medicine is: "Why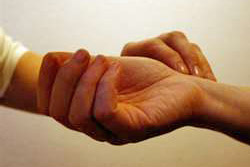 does my practitioner check my pulse?" Pulse diagnosis is actually one of the most complex and important diagnostic techniques we use in Chinese Medicine. Through feeling and evaluating your pulse, I obtain an accurate diagnosis of your overall constitution, Qi (energy) flow, and internal organ health, among other things. I then synthesize all of this information into a highly effective and individualized treatment plan for your specific needs.
Reflexology
"Reflexology is the application of pressure to areas on the feet, hands and ears. Reflexology is generally relaxing and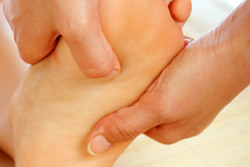 may be an effective way to alleviate stress. The theory behind reflexology is that these areas correspond to organs and systems of the body. Proponents believe that pressure applied to these areas affects the organs and benefits the person's health.
Several studies funded by the National Cancer Institute and the National Institutes of Health indicate that reflexology may reduce pain and psychological symptoms, such as anxiety and depression, and enhance relaxation and sleep. Studies also show that reflexology may have benefits in palliative care of people with cancer." (per Mayo Clinic)
Reiki
Reiki is a Japanese form of energy work that cleanses and balances the energy system in the body. As a result, the body's natural self-healing mechanisms strengthen, helping to establish optimum health. During a session, I work directly with your energy field to remove blockages, detoxify your system, and restore your vital life force energy. Reiki utilizes a gentle laying on of hands to conduct the necessary energy force between us. The benefits of Reiki range from the release of habitual mental/emotional stress to alleviating chronic pain.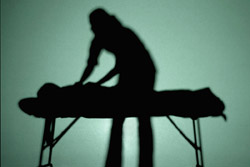 Shiatsu
Shiatsu is a Japanese form of massage therapy. The word Shiatsu comes from two Japanese words — "shi" (finger) and "atsu" (pressure). In addition to the direct stimulation of pressure points along the energy pathways of your body, gentle stretching techniques are applied over a wider area of the body to integrate the point work and encourage the flow of Chi (energy) throughout the body. Shiatsu is a meditative healing art that honors the body, mind and spirit.
Tai Chi
Originally developed in ancient China as a system of self-defense, Tai Chi is now a highly refined art that combines slow flowing movements with focused breathing techniques to strengthen your overall health and well-being. Practiced by millions of people worldwide, the benefits of Tai Chi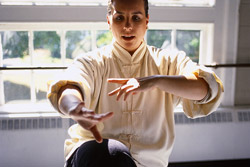 are well-documented, and include not only a stronger physical body, but also a more focused and clear sense of awareness and attention. Tai Chi breath techniques and stretches are taught to clients to supplement their acupuncture, bodywork and/or hypnosis sessions and for home use.
Tui Na
Tui Na is an ancient form of bodywork that is based on the principles of Traditional Chinese Medicine. I use a variety of pressures and strokes along the meridians (energy pathways) of your body to both relax your muscles and also stimulate the flow of energy throughout your body. By treating both the physical (musculature) and energetic (Qi) levels of your body at the same time, I can achieve results far beyond what you'd receive from a conventional massage therapy session.
Acupuncture, Acupressure, Abundant Qi, Lea Siebert, Massage, Hypnosis, Hypnotherapy, hypnotist, hypnotherapist, Hawaii, Waikoloa, Kona, Kohala, Kailua, Kailua-Kona, Big Island, Chinese Medicine, Herbs, Chinese Herbal Medicine, Reiki, Alternative Medicine, Alternative Health, Abundant Life, Holistic Health, Relaxation, Bodywork, lomi lomi, Reflexology, PNT, Kaufman Pain Neutralization Technique, Herbal Medicine, Natural medicine, pain, pain relief, stress relief, neck pain, menopause, PMS, fertility, stress, anxiety, insomnia, back pain, migraine, headache, fatigue, energy 96740
Acupuncture, Acupressure, Abundant Qi, Lea Siebert, Massage, Hypnosis, Hypnotherapy, hypnotist, hypnotherapist, Hawaii, Waikoloa, Kona, Kohala, Kailua, Kailua-Kona, Big Island, Chinese Medicine, Herbs, Chinese Herbal Medicine, Reiki, Alternative Medicine, Alternative Health, Abundant Life, Holistic Health, Relaxation, Bodywork, lomi lomi, Reflexology, PNT, Kaufman Pain Neutralization Technique, Herbal Medicine, Natural medicine, pain, pain relief, stress relief, neck pain, menopause, PMS, fertility, stress, anxiety, insomnia, back pain, migraine, headache, fatigue, energy 96740
Acupuncture, Acupressure, Abundant Qi, Lea Siebert, Massage, Hypnosis, Hypnotherapy, hypnotist, hypnotherapist, Hawaii, Waikoloa, Kona, Kohala, Kailua, Kailua-Kona, Big Island, Chinese Medicine, Herbs, Chinese Herbal Medicine, Reiki, Alternative Medicine, Alternative Health, Abundant Life, Holistic Health, Relaxation, Bodywork, lomi lomi, Reflexology, PNT, Kaufman Pain Neutralization Technique, Herbal Medicine, Natural medicine, pain, pain relief, stress relief, neck pain, menopause, PMS, fertility, stress, anxiety, insomnia, back pain, migraine, headache, fatigue, energy 96740
Acupuncture, Acupressure, Abundant Qi, Lea Siebert, Massage, Hypnosis, Hypnotherapy, hypnotist, hypnotherapist, Hawaii, Waikoloa, Kona, Kohala, Kailua, Kailua-Kona, Big Island, Chinese Medicine, Herbs, Chinese Herbal Medicine, Reiki, Alternative Medicine, Alternative Health, Abundant Life, Holistic Health, Relaxation, Bodywork, lomi lomi, Reflexology, PNT, Kaufman Pain Neutralization Technique, Herbal Medicine, Natural medicine, pain, pain relief, stress relief, neck pain, menopause, PMS, fertility, stress, anxiety, insomnia, back pain, migraine, headache, fatigue, energy 96740